ST IT Cloud

recognized as

Leader
AWS Analytics and Machine Learning Quadrants

It is

AWS Internet of Things

(IoT)

Services ISG Provider Lens™ - AWS Ecosystem Partners Brazil 2022
We thank our team, customers and partners for the journey!
The study AWS Ecosystem Partners 2022 by ISG Provider Lens™, once again recognized the leadership of the ST IT Cloud in the categories Data Analytics, Machine Learning It is IoT, we are also present in the Product Challenger quadrants with the category Migration Services and Market Challenger with the category Consulting Services.

The survey aims to analyze the landscape of AWS partners in terms of the attractiveness of their portfolios and competitive strength in each market. ISG user consultants and clients can use this information to assess current supplier relationships and their potential to establish new relationships, through more objective insights.

ST IT Cloud started its activities in 2009, with expertise in software development and Business Intelligence solutions. In 2012, it was certified as an AWS partner and since then it has been intensifying this relationship, growing its operation and the number of customers.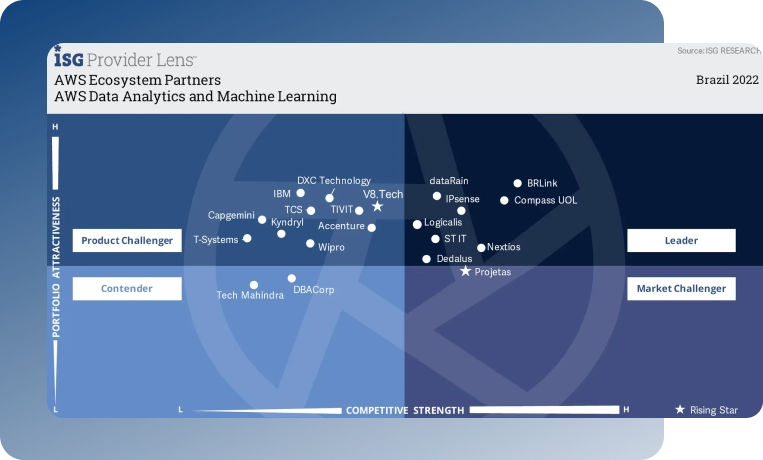 AWS Data Analytics and Machine Learning
Ability to collect, analyze and demonstrate machine learning capabilities that enable faster and more efficient analysis of a wide variety of types and amounts of data, within and across a growing range of systems and applications. Providing resources and expertise in data science (including big data and advanced analytics), database and solution architecture, machine learning, relevant AI development and implementation, software development, networking, and data privacy/security.
AWS Internet of Things (IoT) Services
Support the use of applications to monitor, manage and control connected devices based on AWS solutions (device software and/or control services). Essential functions include remote data collection from connected devices, secure connection between devices, sensor management and integration with third-party systems. This report is important for companies from all sectors in Brazil to assess the skills of vendors offering consulting services for the transformation of the AWS cloud ecosystem.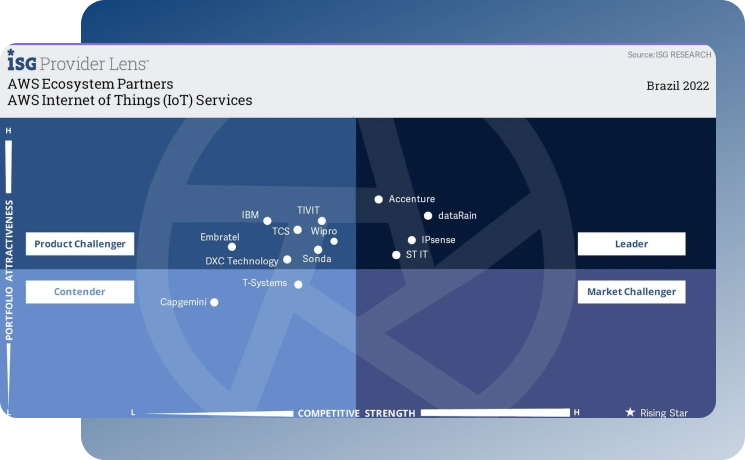 Information Services Group (ISG) (Nasdaq: III) is a leading global technology research and advisory company. A trusted business partner to more than 800 customers, including more than 75 of the world's top 100 companies, ISG is committed to helping corporations, public sector organizations, and service and technology providers achieve operational excellence and faster growth.

The company specializes in digital transformation services including automation, cloud and data analytics; sourcing advice; managed governance and risk services; network operator services; strategy and operations design; change management; market intelligence and technology research and analysis. Founded in 2006 and headquartered in Stanford, Connecticut, ISG employs more than 1,300 digital-ready professionals operating in more than 20 countries - a global team known for their innovative thinking, market influence, deep technology expertise and industry-leading, world-class research and analytical capabilities based on the industry's most comprehensive market data